Estwing
celebrating 100 years
A look back with an eye to the future.
It's difficult to comprehend the sheer number of projects that have been completed, homes that have been built, outdoor adventures that have been impacted and trees that have been felled using Estwing handtools over the course of our 100-year history. But one thing is for sure: Estwing has played a key, historical role in the way that hammers, axes, picks and pry tools are designed, manufactured and used, making them more ergonomically efficient, comfortable and longer lasting. And we will continue to proudly push the boundaries of performance, quality and design as we move into our next 100 years!
Ernest Estwing
Ernest Otto Estwing was born in Öland, Sweden in 1885 and emigrated to the United States when he was 16. An enterprising, industrious young man, Ernest settled in Rockford, Illinois, where he enrolled in night school to learn English and master the machinist's trade.
At 21, he married Hulda Svenson and moved to the East Coast where he worked for Remington repairing typewriters and Bridgeport Manufacturing Company as an industrial engineer. When Hulda grew homesick for her family, in 1918 they packed up and moved back to Rockford.
As a self-taught engineer, Ernest was continually coming up with new inventions, including a patented self-loading shotgun and eventually several soon-to-be-legendary hand tools. Motivated by his observations regarding the limitations of wood-handled hammers and hatchets, Ernest established the Estwing Manufacturing Company in Rockford in 1923. His goal was to build the finest hand tools the world had ever known.
Before he passed away at the age of 97, Ernest saw his beloved Estwing grow and expand exponentially. The company he began in his basement now has product lines sold in leading hardware stores, home centers and retailers around the world.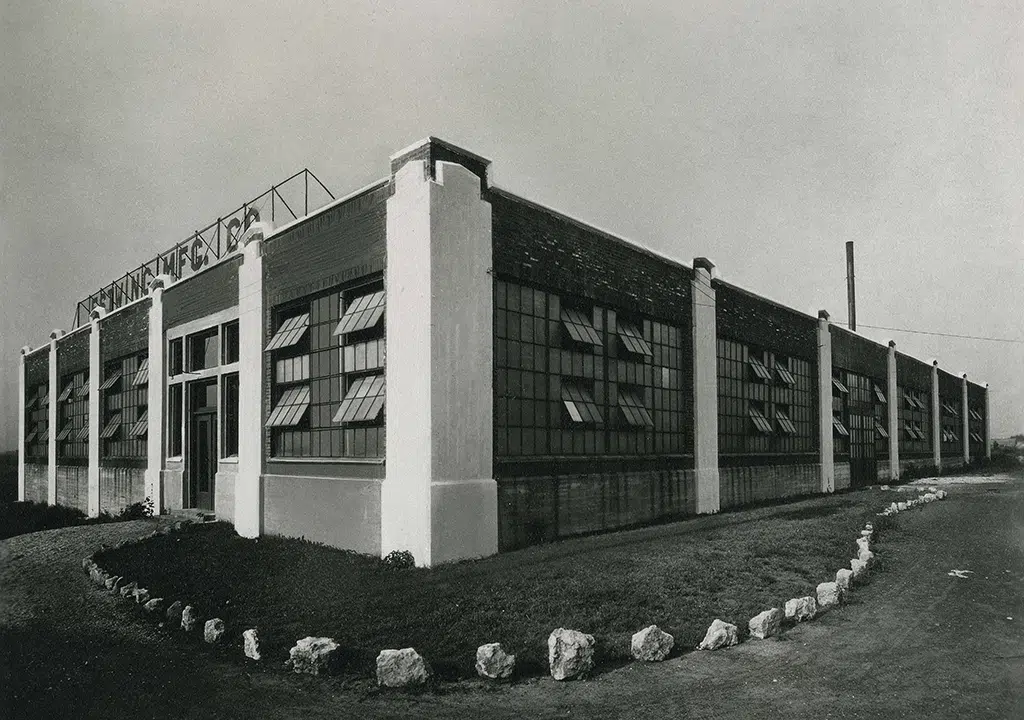 The Founding
Ernest Estwing patents his legendary one-piece, solid steel hammer design.
Estwing begins operations in Rockford, Illinois, and becomes the first company to manufacture and sell hammers with the head and handle forged from one piece of solid steel.
In 1925, an advertisement in a trade journal for union carpenters yields a surprising number of orders. This encourages investors and prompts Estwing to open its first factory.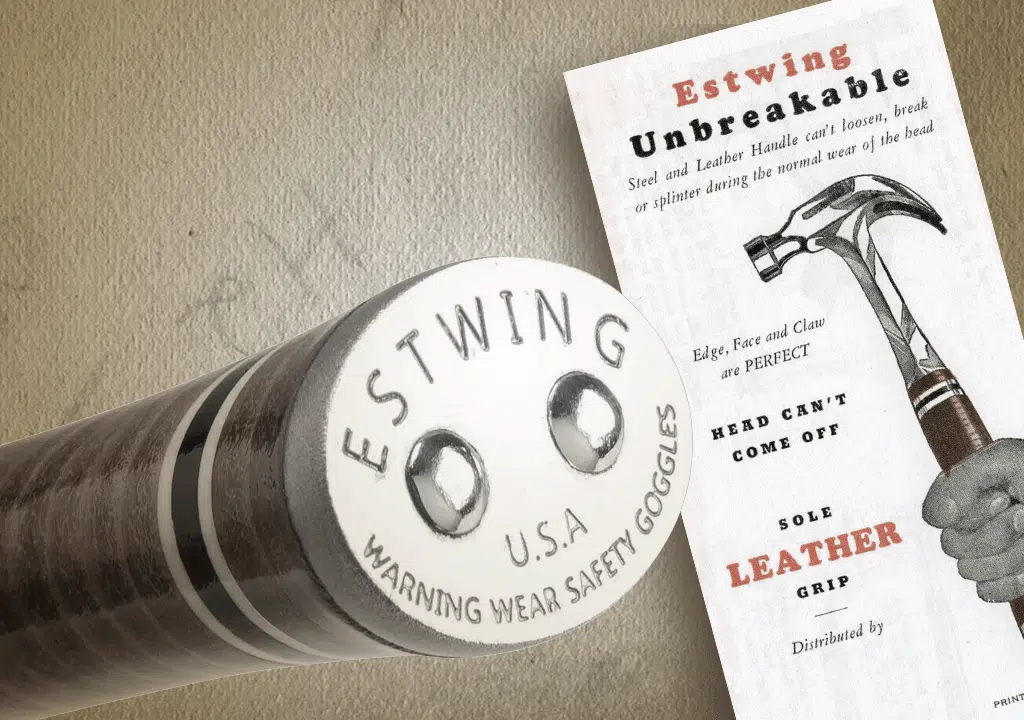 Legendary Leather
Company growth temporarily slows due to the great depression. Ernest and company leaders go to great lengths to lessen the impact on employees and their families.
Estwing introduces its iconic leather handle, still loved by tool enthusiasts the world over.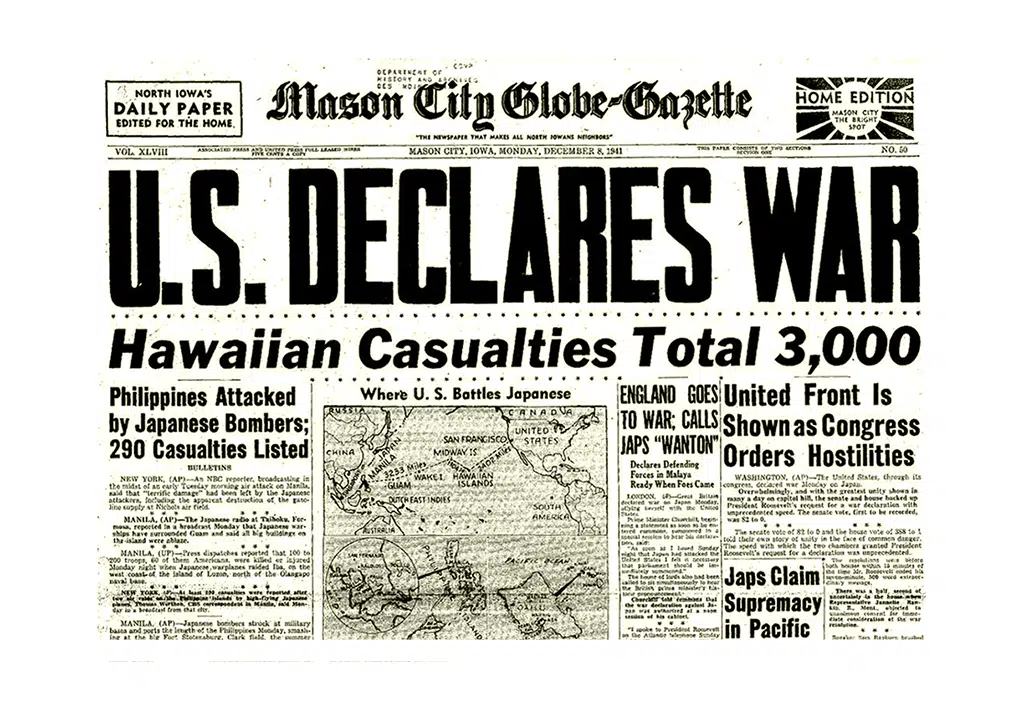 Expansion
During World War II, the War Production Board allows Estwing to continue producing tools essential to the war effort despite steel rationing.
Following the end of the war, Estwing announces plans to expand its manufacturing facility.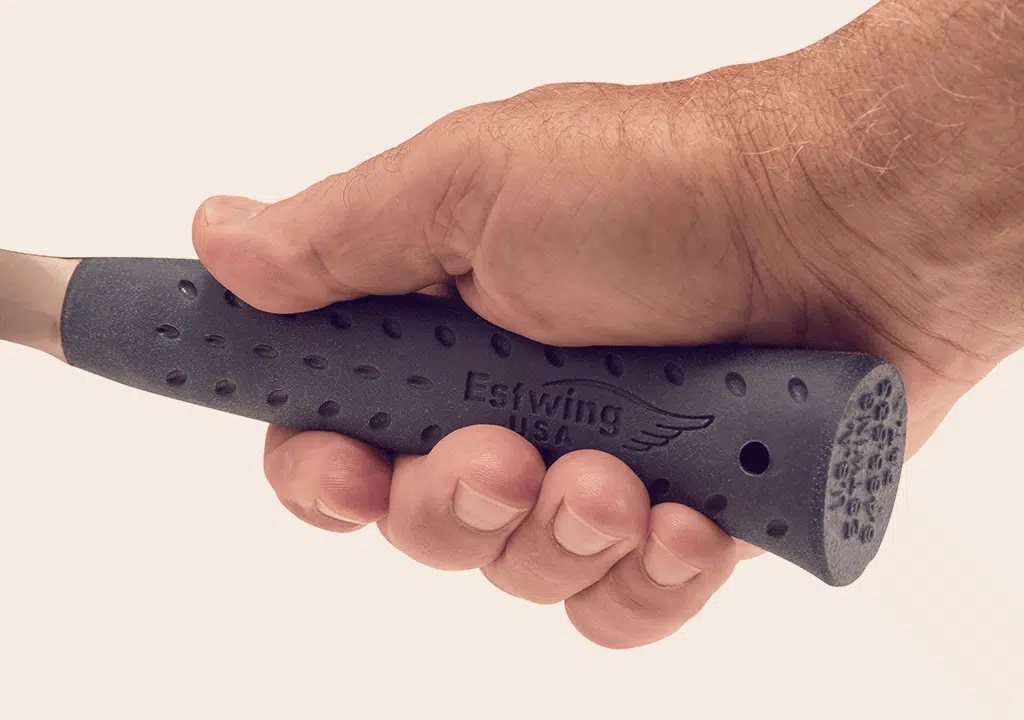 Blue Vinyl
The company breaks ground on a $100,000, 13,200 sq. ft. expansion and announces plans to add 20 more employees.
Estwing begins manufacturing blue vinyl grips while continuing to offer its iconic leather handles. The new vinyl grip is molded, not glued, making it highly durable.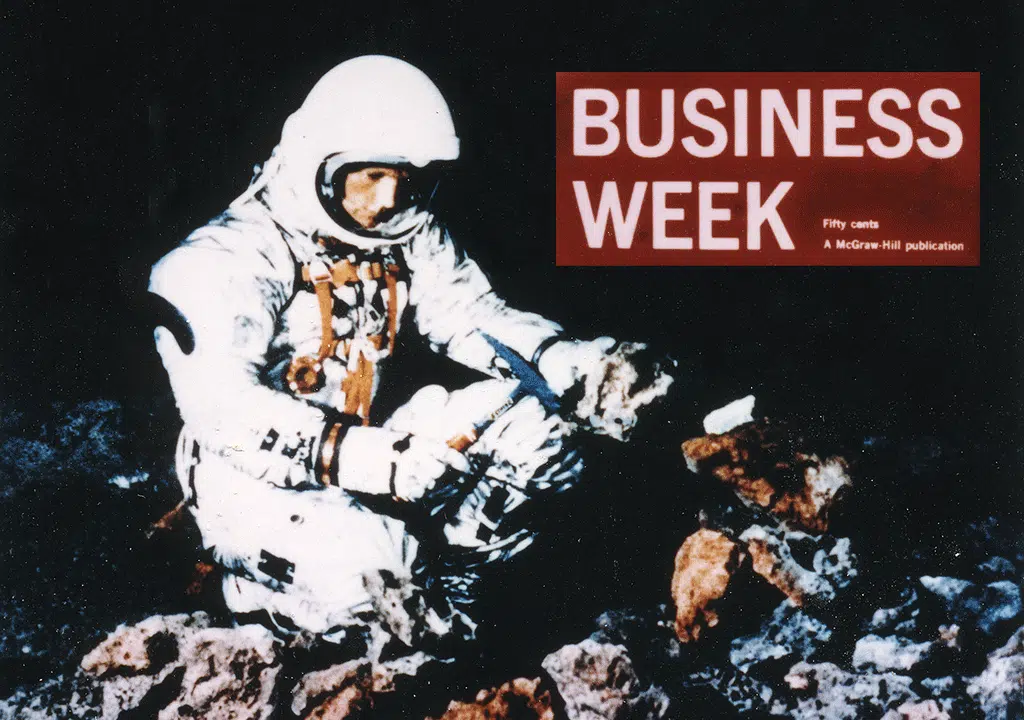 The Moon Mission
Estwing's geology pick becomes famous when Neil Armstrong uses it during training for the moon mission. Today, Estwing geology tools are still the benchmark for the industry.
Estwing grows into new international markets, including Canada, the U.K., Australia, New Zealand and South Africa.
More Styles
The company continues to grow its line of hammer styles and weights, with most featuring the blue nylon vinyl grip preferred by tradesmen.
Estwing tools are sold by the two largest hardware co-ops in the U.S. – Ace Hardware and True Value.
Shock Reduction Grip®
The company's international market expands to include Scandinavia, Germany and other European countries.
Estwing introduces its game-changing Shock Reduction Grip®, enhancing the comfort and durability of its popular vinyl grip.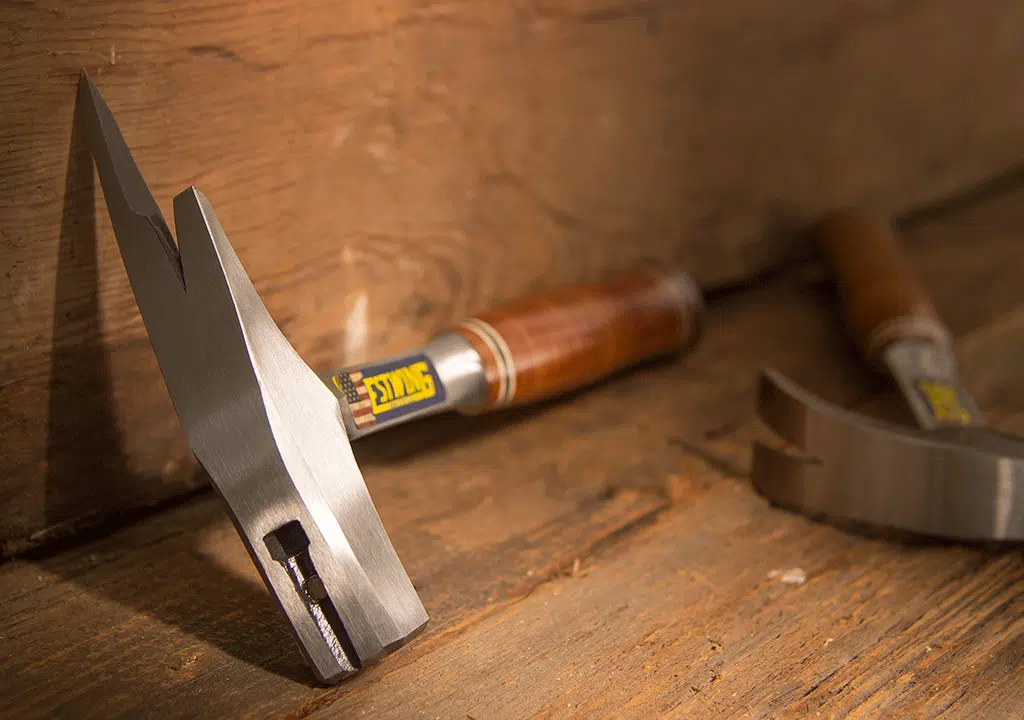 Euro Market
Estwing begins manufacturing German pattern hammers for the European market.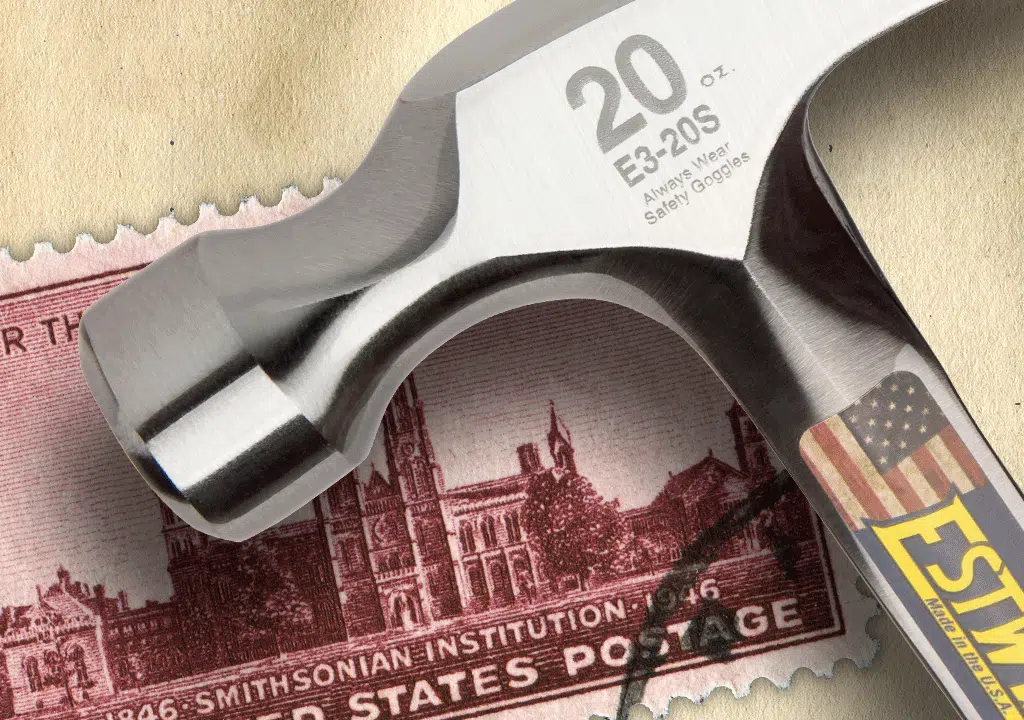 Hello, Smithsonian
Estwing enhances its forging process through automation.
In 2005, an Estwing hammer is added to the Smithsonian's Industry & Manufacturing collection at the National Museum of American History.
Special Edition Outdoor
New Black Eagle and Special Edition Outdoor Tools hit the market, including two brand new designs – the Tomahawk and the Double Bit Axes.
Estwing automates its heat treating and finishing processes for greater quality control.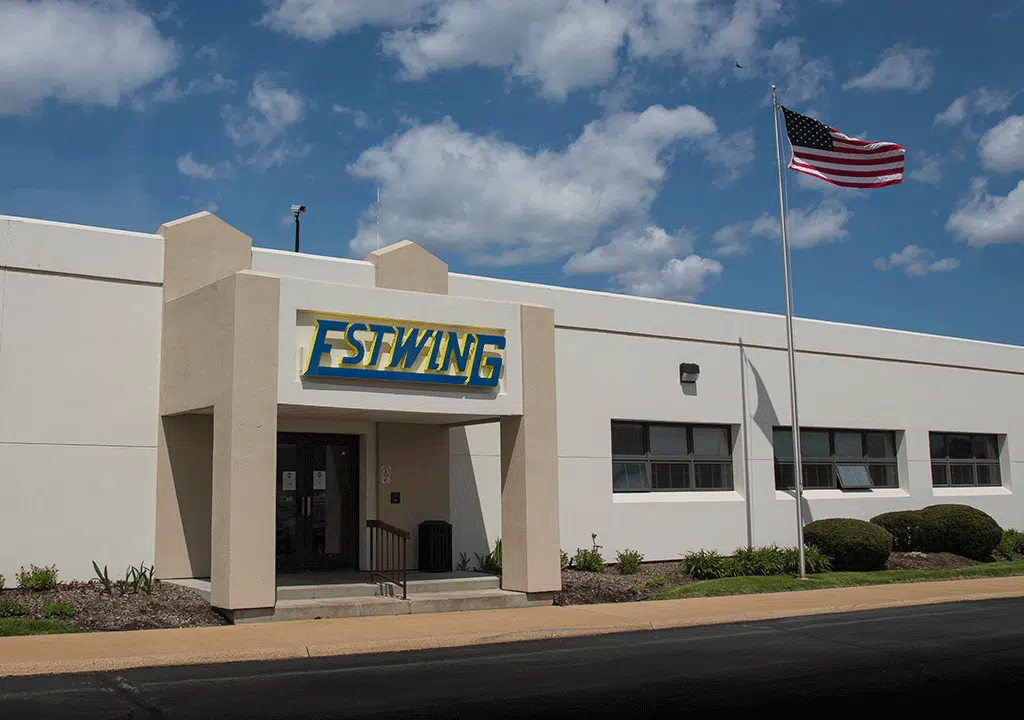 100 Years!
Continuing to modernize its manufacturing processes, Estwing adds nearly 70 robots at its Rockford plant.
In 2023, Estwing celebrates 100 years of making the first and finest one-piece, all steel tools.

OUR LEADERS | Past & Present
A great leader inspires, encourages and empowers, and does so day after day, and year after year. Estwing has been fortunate to be led by exceptional individuals throughout our history.
LEVIN FAUST
President
1923 – 1924
ERNEST ESTWING
President
1925 – 1957
NORMAN ESTWING
President
1958 – 1988
ROBERT MAYER
President
1989 – 2000
ROBERT YOUNGREN
President
2001 – 2013
MARK YOUNGREN
President
2014 – Present